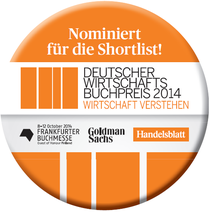 The book "Sie wissen alles" applied for the German Economic Book Prize 2014. The prize is being rewarded by the German magazine "Handelsblatt", the Frankfurt Book Fair and Goldman Sachs. Last Friday, "Sie wissen alles" was shortlisted with nine other renowned authors/books that caught our attention in 2014. The shortlist is:
Heinz Bude: Gesellschaft der Angst, Hamburger Edition, 2014, 150 Seiten, 16 Euro
Kerstin Bund: Glück schlägt Geld. Generation Y: Was wir wirklich wollen. Murmann, Hamburg 2014, 200 Seiten 19,99 Euro
Yvonne Hofstetter: Sie wissen alles. Wie intelligente Maschinen in unser Leben eindringen und warum wir für unsere Freiheit kämpfen müssen. C. Bertelsmann, München 2014, 320 Seiten, 19,99 Euro
Christoph Keese: Silicon Valley. Was aus dem mächtigen Tal der Welt auf uns zukommt. Knaus, München 2014, 320 Seiten, 19,99 Euro
Michael Lewis: Flash Boys. Revolte an der Wall Street. Campus, Frankfurt 2014, 288 Seiten, 24,99 Euro
Felix Martin: Geld, die wahre Geschichte. Über den blinden Fleck im Kapitalismus. DVA, München 2014, 432 Seiten, 22,99 Euro
Mariana Mazzucato: Das Kapital des Staates. Eine andere Geschichte von Innovation und Wachstum. Kunstmann, München 2014, 303 Seiten, 22,95 Euro
Thomas Piketty: Das Kapital im 21. Jahrhundert. C. Beck, München 2014, 912 Seiten, 29,95 Euro
Philip Roscoe: Rechnet sich das? Wie ökonomisches Denken unsere Gesellschaft ärmer macht. Hanser, München 2014, 316 Seiten, 21,90 Euro
Peter Thiel: Zero to One. Wie Innovation unsere Gesellschaft rettet. Campus, Frankfurt 2014. 200 Seiten, 22,99 Euro
Fifteen jury members have left close to eight weeks to read and review and make their decision. No matter, what their judgement will be, we are very proud of the nomination!